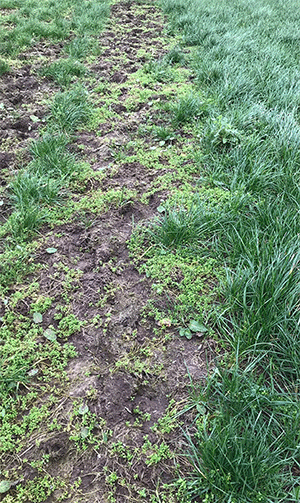 Both Envy and PastorTrio are tailor-made for the control of weeds in reseeded pastures. Chickweed and seedling docks are among the major weed problems in new reseeds. Envy and PastorTrio are highly effective on both weeds.
"Many pastures that were reseeded last autumn did not get a post-emergent weed killer. Some are now riddled with weeds with large patches of grass smothered out. Spraying with PastorTrio or Envy will kill the weeds and enable the perennial grasses to recover," said Chris Maughan.
He said that weed control will also become an urgent issue in pastures that are currently being reseeded.
"A post-emergent application of Envy or PastorTrio, depending on the weeds, will result in a weed-free sward and allow the new grass to tiller out, ensuring the sward can reach its full potential.
"Both herbicides can be applied from the third leaf visible stage of the grass. The recommended application rate on new reseeds is one litre/ha in 200 litres of water.
"As Envy works well in cooler conditions, it can be applied up to 30 November. This makes it an ideal post-emergent herbicide for autumn-sown reseeds."
Over-sowing Clover
As Envy, PastorTrio and other systemic herbicides that kill broad-leaved weeds also kill clover, a growing number of farmers now omit clover from the original seed mix.
They then spray the new sward and over-sow the clover into a clean sward using a technique developed by Teagasc Moorepark.
Clover can be over-sown three months after the sward is sprayed with Envy or PastorTrio.